Acute (Single-Dose) Systemic Toxicity
An acute intravenous toxicity study was conducted using 36 rats of both genders. Sprague-Dawley rats (150-200 g) were injected intravenously with TA-65 in 40% ethanol in isotonic saline on day 0. Tests include reactions on skin, corneas, to liver cells, kidney cells, intestinal lining, red blood cells. Doses were 0 mg/kg (vehicle control), 0.016, 0.08, 0.4, 2.0, and 10 mg/kg, all in 200µL tail vein injections directly into the bloodstream. The highest 10mg/kg dose would correspond to approximately 600 mg TA-65 injected directly into the blood stream of 132lb person. The current dose is 30mg, absorbed less efficiently, by oral ingestion. Rats were monitored daily over 7 days for weight, appearance, and gross signs of behavioral changes. On day 7, all animals were evaluated.  Gross pathology was conducted on major organs, and hematology and clinical blood chemistry were conducted by a contract laboratory. Analysis showed no significant dose dependent changes for males or females in behavior (eating, drinking) or gross weight, organ weights (heart, lung, liver, kidneys, adrenals and spleen), hematology or clinical chemistry. In conclusion, TA-65 was shown to be well-tolerated systemically after single intravenous injections up to 10 mg/kg.
Carcinogenesis

TA Sciences commissioned a double-blind, placebo-controlled study with human lung, colon, breast, and prostate cancers transplanted onto nude mice to assess what effect TA might have on tumor growth. Nude mice can't fight cancer because they don't have a thymus.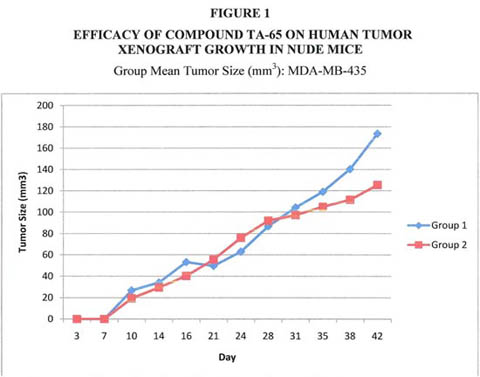 The graph shows no statistical difference between TA-treated and placebo groups. The placebo group is Group 1, the TA-65 group is Group 2. Perhaps the tumor growth couldn't have been greater because the conditions were already maximally favorable for tumor growth (i.e. cell immortality and host immunodeficiency.) For more information showing why Telomerase Activation doesn't cause cancer, see PODCAST 012.