For #ScienceSunday, we turn to a recent article published online showing that a modified mRNA version of the telomerase protein (TERT) can extend the telomeres in a dose-dependent fashion.  This method has the advantage of not being permanent, as with gene therapy.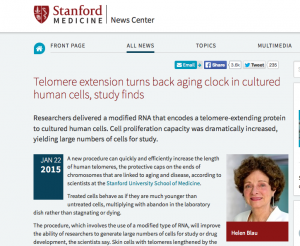 This is of limited practical significance because unlike in the laboratory, in your bodies, messenger RNA must be manufactured in the stem cells and cannot be directly injected as with study, let alone absorbed by mouth. 
Even if given intravenously, there would be no way of targeting specific cells with such a treatment.  
What is interesting is that it speaks to the fact that normal human telomerase is made with a limited potency due possibly to its efficient degradation.  The alteration of the wild-type mRNA just a little, seemed to allow the new hTERT to linger until it too was disassembled.  In the future, the mechanisms for intracellular telomerase ecology will need to be elucidated but this experiment is an important piece of that puzzle.
Here is the link to the original article:
http://www.fasebj.org/content/early/2015/01/21/fj.14-259531
I graduated from Harvard with honors in Biological Anthropology prior to earning my Medical Degree and Masters in Public Health from Columbia University.
In 2007, I became the nineteenth patient to sign up for the use of a herbally-extracted telomerase activator.
The results were so positive that I founded Recharge Biomedical Clinic in 2008 and have since become the leading medical expert in this exciting new field of regenerative medicine treating over 1,300 patients with this exciting new telomerase activation medicine.
I won two Houston Film Festival Awards for my screenplays about Hypatia of Alexandria and Ed Brown of Kentucky.
In 2010 I wrote and self-published a Sci-Fi Graphic Novel called
MAXIMUM LIFESPAN
In 2013, I wrote and published "Telomere Timebombs; Defusing the Terror of Aging"
My websites are:
http://www.lokahi.guru
(where you can learn about my RECHARGE adaptogenic supplement)
http://www.rechargebiomedical.com
and
http://www.telomeretimebombs.com
You can sign up for my weekly blogs on this page and subscribe to my YouTube videos at
https://www.youtube.com/drpark65
Latest posts by Ed Park, MD (see all)