2005 Pilot Study of Telomerase Activation
The Pivotal 2005 Anti-Aging Trial of TA-65 was a double-blind, placebo controlled, 24 week study in which subjects consumed 2 or 4 tablets daily of a placebo for 12 weeks or 2 or 4 tablets daily of a TA-65 precursor molecule (TA-41) for 12 weeks. Thirty-six male subjects, between the ages of 60-85, were recruited. Subjects were randomly assigned to the placebo group or the TA treatment group. Subjects were assessed at baseline and at 6 weeks, 12 weeks and 24 weeks from the first dose of TA. Statistical Methods Statistical analyses of multiple economic, demographic, health, and lifestyle-related measures showed no indication that the subjects who were assigned to the TA groups were significantly different at baseline than those who were assigned to the placebo groups. The average of the individual changes at each time point in the treatment versus the placebo groups are compared using a Student's t-test statistic. A two-tailed t-test was used. Small p-values indicate that differences are significant, i.e. likely not due to chance.
Lymphocyte Proliferation
Lymphocyte proliferation was measured at baseline and at 6, 12, and 24 weeks using a standard assay in which white blood cells are exposed to a potent plant antigen called phytohemaglutinin (PHA) which primarily activates T lymphocytes. The increase in lymphocyte proliferation under conditions of strong stimulation with PHA suggests that TA improves the proliferative response of the immune system to foreign agents. At 24 weeks the difference in the individual responses in the TA group was highly statistically significant from that in the placebo group (p=0.0049). T lymphocytes comprise the cellular "ADAPTIVE immune system," which protects the body against foreign invaders by mounting a strong and specific immune response to threats, both old and new.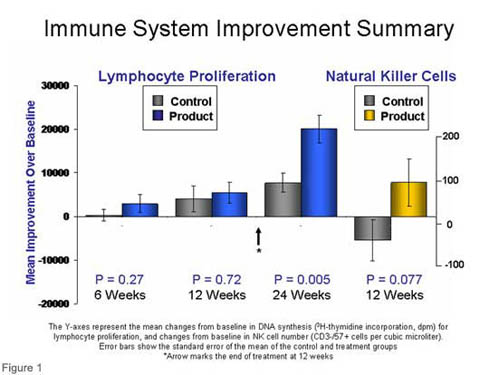 Natural Killer (NK) Cells NK cells are specialized lymphocytes belonging to our "INNATE immune system." NK kill foreign cells (like bacteria), or host cells that have been hijacked by cancer or viruses. They manage this even without having been previously exposed or trained. It is known that NK cell function declines with age. The treatment group had an average increase in NK cell numbers of about 14% at 12 weeks, while the NK cell number in the placebo group dropped about 10% in the same time period. The improvement in NK cell numbers suggests they could have an improved immune response against foreign or abnormal cells in the body.
Vision Improvement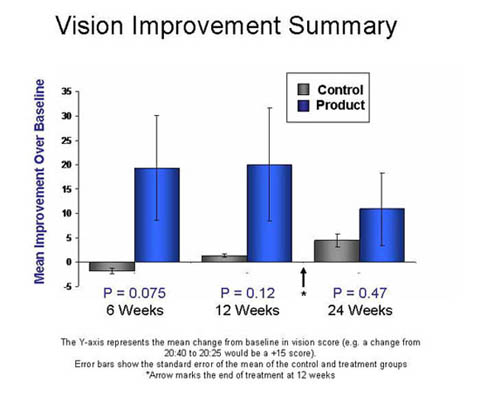 It is well-established that vision declines due to deterioration in both the structure and function of multiple compartments within the eye; these include the lens, retina, and the blood vessels. Only recently has it been appreciated that telomere-related cellular aging in tissues of the eye play a causal role in declining eyesight. Standard visual acuity tests were conducted at baseline and at 6, 12, and 24 weeks. The average improvement over baseline in the TA group was greater than that in the control groups at all 3 time points tested. Although the TA group at 12 and 24 wks showed no statistical difference, the difference at 6 weeks was statistically significant (p=0.075.)
Sexual Function
The decline in male sexual function involves neurological and hormonal systems, as well as vascular tone regulation in the erectile tissue of the penis.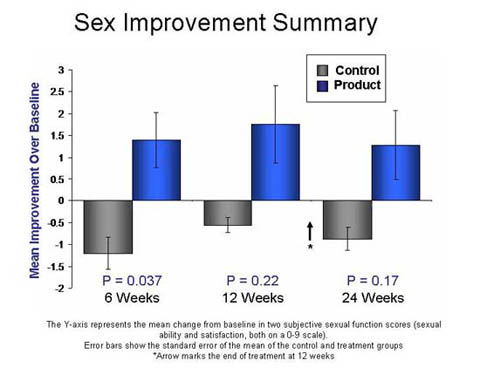 Sexual function was self-assessed at baseline and at 6, 12, and 24 weeks by the subjects using a standard questionnaire. In two categories ("ability to have intercourse", and "satisfaction") there were consistent improvements reported in the TA group over baseline compared to changes reported in the control group. The average improvement over baseline in the TA group was greater than that in the control groups at all 3 time points tested. The differences at 12 and 24 were not statistically significant but the data at 6 weeks showed a strong correlation (p=0.037.)
Skin
As with vision and the immune system, there has been significant research on the role of cellular aging and telomere attrition in several types of skin cells, including keratinocytes and hair follicles.

In this study, skin quality was assessed at baseline and at 6, 12, and 24 weeks by the subjects themselves using a questionnaire. In 8 of 10 categories queried, there were consistent improvements reported in the TA group over baseline compared to changes reported in the control group. These categories were combined into a single summary variable and the data shown. The individuals were not aware of whether they were taking the TA or the placebo tablets. TA group improvements were greater than with control groups at all 3 timepoints While the improvements at 12 and 24 weeks may be due to chance, the difference at 6 weeks was significant (p=0.037),