On Thursday, Nov 10th, there will be a Age Medicine Management Group (AMMG) special pre-conference day of lectures feature leading experts in telomere biology prior to the 21st meeting in Las Vegas on Nov 10-14th.
Presenting will be a few of my friends who always put on a good show!!
Dr. Joseph Raffaele, architect of The Patton Protocol, and author of three papers on TA-65.
Dr. Bill Andrews, noted telomere scientist and CEO of Sierra Sciences.
David Woynarowski, M.D., CPT, founder of Dr.Dave'sBest.com and author of The Immortality Edge.
The full program description is here:

Early bird registration closed on 10/21 but if you call Rick at 239-330-7495  and tell them Dr.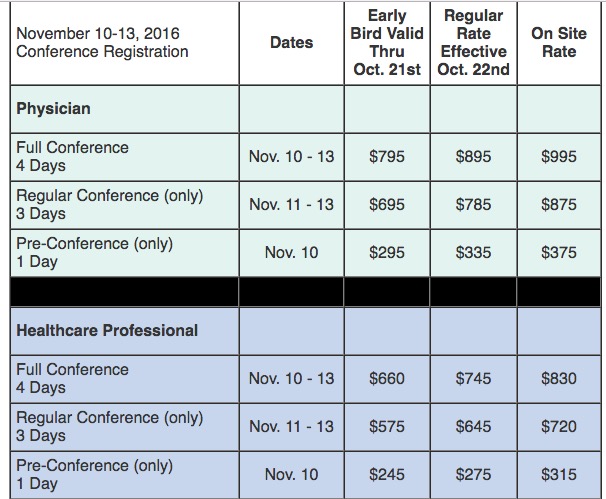 Park sent you, they will likely extend the discount for another week…
Hotel blocks at The Bellagio for $221 are another matter. They expire Saturday Oct 21st, so reserve NOW (and cancel if you must).
If you can fly in for this once in a lifetime chance to hear the world's experts in telomere biology, you should consider it.
---
DISCLAIMER: I am not currently planning on attending. This is an unpaid notification and not an advertisement. It is provided for my readers who might interested in telomeres but may not have known of this event. I have requested a complimentary pass but I have not heard anything from AMMG and no such promise or quid pro pro arrangement has been made.
I graduated from Harvard with honors in Biological Anthropology prior to earning my Medical Degree and Masters in Public Health from Columbia University.
In 2007, I became the nineteenth patient to sign up for the use of a herbally-extracted telomerase activator.
The results were so positive that I founded Recharge Biomedical Clinic in 2008 and have since become the leading medical expert in this exciting new field of regenerative medicine treating over 1,300 patients with this exciting new telomerase activation medicine.
I won two Houston Film Festival Awards for my screenplays about Hypatia of Alexandria and Ed Brown of Kentucky.
In 2010 I wrote and self-published a Sci-Fi Graphic Novel called
MAXIMUM LIFESPAN
In 2013, I wrote and published "Telomere Timebombs; Defusing the Terror of Aging"
My websites are:
http://www.lokahi.guru
(where you can learn about my RECHARGE adaptogenic supplement)
http://www.rechargebiomedical.com
and
http://www.telomeretimebombs.com
You can sign up for my weekly blogs on this page and subscribe to my YouTube videos at
https://www.youtube.com/drpark65
Latest posts by Ed Park, MD (see all)