Last evening, I didn't blog because I was attending my friend's wonderful Council of Korean-Americans INSPIRE gala honoring people in business, fashion, music, acting, and sports. One of the most moving speeches was given by Chan Ho Park, the famous baseball pitcher and pioneer for Asians in American sports.
As a student of story telling, the brief speech was a masterpiece. In short, he described how is relationship to his personal "why" evolved and how it made him feel.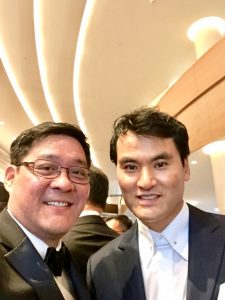 When he was playing baseball as a kid, he never questioned why his baseball uniforms were clean until he saw his mother washing them by hand. He wanted to play baseball to buy his mother a washing machine.
When he was 17, he visiting America and went to to Dodger Stadium, where discovered his "why" in that grand setting. He envisioned being on the mound despite sitting in the cheap seats. Two years later, his dedication and dream made that a reality.
On a humorous note, as a player eating smelly comfort food on the Dodger plane, he was relegated to eating in the bathroom by his teammates.
Finally, he described getting his 124th win and being celebrated by his teammates with a strip down, beer shower hazing. This was the end of his career.
The most moving note of the speech was when he described the epiphany in his hotel room the night after his last game. He found himself crying with the bittersweet realization of someone who had achieved his goal of being the Asian MLB player with the most wins; and knowing that achievement wasn't truly indelible. It would and should be broken- that's what records are made for.
It was in that moment he realized that, like Dorothy from Kansas, that he was never apart from his truly resonant "why". Rather than competing to be the record holder, he realized that his consistent connection to both Koreans and Korean-Americans who believed in him was what imbued his life with meaning and richness. To carry the mantle of an entire group of people is hard; to do it for two disparate groups is harder. For any of us to walk with courage and authenticity through our lives is to be a hero, no matter how many wins or what others may think. We are here to serve, create something that moves others, and to grow. Thank you, Chan ho, for doing them all with such heart.