After a 2-yr hiatus, my podcasts are returning with our 46th installment: Spinal Injury.
I will present a brief overview of Spinal Injury and then share a remarkable case of a man who is on the road to recovery after five years of complete paralysis.  Porter and Jill will inspire you and if you can't attend, then be sure to check out archive of our live webinar.
---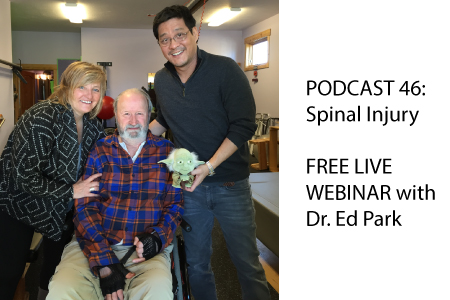 ---
Attendance will be very limited so come a bit early to reserve your spot and check your audio/visual settings. As usual, I will open it up to Q&A afterwards although most of that doesn't make it into the final edited video.
Recharge Podcast 46: Spinal Injury
Wed, Apr 8, 2015 2:00 PM – 2:30 PM PDT
Please join my meeting from your computer, tablet or smartphone.
https://global.gotomeeting.com/join/470834237
You can also dial in using your phone.
United States :

+1 (571) 317-3112
Access Code: 470-834-237