In this study by Geronimus et al published in the Journal of Health and Social Behavior, telomere measurements were taken assuming that race and socio-economic status were valid study criteria.  They concluded that for whites, poverty was associated with big differences in telemeres versus the wealthier whites.  For blacks, there was no effect of poverty upon telomeres, and for Mexicans, poverty was associated with longer telomeres (presumably because they grew up in more supportive traditional environments).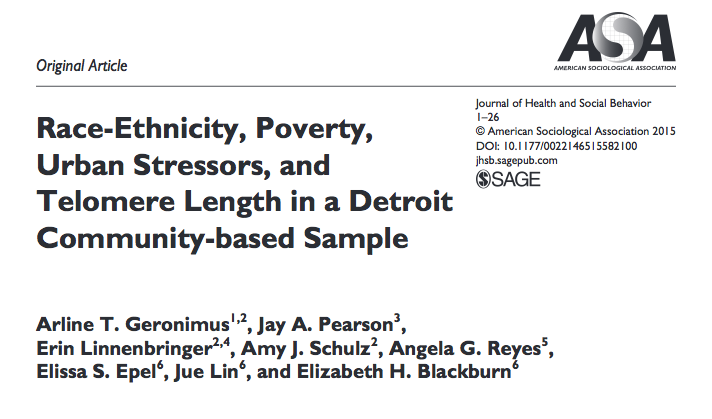 http://hsb.sagepub.com/content/early/2015/04/30/0022146515582100.full.pdf?ijkey=i9EQ5hpDJlBQ3Q0&keytype=finite
Sadly, we know that race as we define it is a non-entity from a biological perspective. This type of research, in my opinion, may confuse and perpetuates racist stereotypes (like the peaceful peasant upbringing).  As a explanatory model, race is a very poor proxy.
More relevant would be the presence of adequate support, the stability of family, debt (not just income), employment, and so on.
I believe that all people experience life in much the same way. There are stress factors, supports, joys and healing.  We can do research based on antiquated models because we have donors, funding, research grants, post-docs, and academic interests.  But I would love to see trials of telomerase activators instead of these endless observational fishing expeditions for statistical significance and extrapolated generalizations.

I graduated from Harvard with honors in Biological Anthropology prior to earning my Medical Degree and Masters in Public Health from Columbia University.
In 2007, I became the nineteenth patient to sign up for the use of a herbally-extracted telomerase activator.
The results were so positive that I founded Recharge Biomedical Clinic in 2008 and have since become the leading medical expert in this exciting new field of regenerative medicine treating over 1,300 patients with this exciting new telomerase activation medicine.
I won two Houston Film Festival Awards for my screenplays about Hypatia of Alexandria and Ed Brown of Kentucky.
In 2010 I wrote and self-published a Sci-Fi Graphic Novel called
MAXIMUM LIFESPAN
In 2013, I wrote and published "Telomere Timebombs; Defusing the Terror of Aging"
My websites are:
http://www.lokahi.guru
(where you can learn about my RECHARGE adaptogenic supplement)
http://www.rechargebiomedical.com
and
http://www.telomeretimebombs.com
You can sign up for my weekly blogs on this page and subscribe to my YouTube videos at
https://www.youtube.com/drpark65

Latest posts by Ed Park, MD (see all)