We may never know the details of how Prince lived or what brought about his untimely demise.  Every time a celebrity like Prince or Michael Jackson dies, there is a tie to insomnia.
It seems that the substances that are needed to get up and down for performances and deal with the lifestyle lead to sleep dysfunction.
Some reports have it that Prince didn't sleep for days before his death.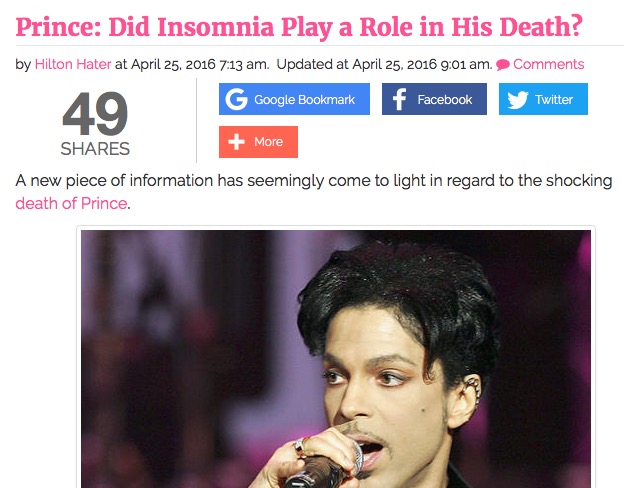 The final common pathway to celebrity death goes through insomnia although we confuse it with addiction, which is merely a futile attempt to mitigate it.
Watch this video explaining how medication and sleep dysfunction are at the heart of so many celebrity deaths:
---
POSTSCRIPT:
In an ironic case of life imitating art, Prince wrote a song about death in April, presumably the April of life (as in dying young).
Hopefully Prince, wherever his is, can now rest in the peace that apparently eluded him in his former life.
Listen to this wonderful cover version of this Prince song:


I graduated from Harvard with honors in Biological Anthropology prior to earning my Medical Degree and Masters in Public Health from Columbia University.
In 2007, I became the nineteenth patient to sign up for the use of a herbally-extracted telomerase activator.
The results were so positive that I founded Recharge Biomedical Clinic in 2008 and have since become the leading medical expert in this exciting new field of regenerative medicine treating over 1,300 patients with this exciting new telomerase activation medicine.
I won two Houston Film Festival Awards for my screenplays about Hypatia of Alexandria and Ed Brown of Kentucky.
In 2010 I wrote and self-published a Sci-Fi Graphic Novel called
MAXIMUM LIFESPAN
In 2013, I wrote and published "Telomere Timebombs; Defusing the Terror of Aging"
My websites are:
http://www.lokahi.guru
(where you can learn about my RECHARGE adaptogenic supplement)
http://www.rechargebiomedical.com
and
http://www.telomeretimebombs.com
You can sign up for my weekly blogs on this page and subscribe to my YouTube videos at
https://www.youtube.com/drpark65

Latest posts by Ed Park, MD (see all)