Of the speakers at the Longevity Now conference, I know that my colleague Dave Woynarowski takes TA-65 and the sponsor of the event, David "Avocado" Wolfe also does.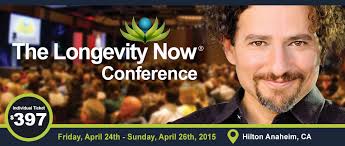 What is interesting is that another of the gurus takes it but I won't "out" him. He emalled me a couple of years back and we had a few phone calls so he could pick my brain about TA-65. Well, this weekend I finally I had the opportunity to meet him (I actually paid for it in the form of a book signing, but let's not quibble).
To be honest, he takes what he considers to be an equivalent product and although he advocates a number of things to stay young and active, he doesn't mention telomerase activators to his many minions.
Why not?
1) don't get paid to sell it or endorse it
2) don't want to recommend something expensive
3) don't care to explain how it works
4) don't want to recommend something controversial (cognitive dissonance from core message)
This reticence extends to an impressive list of celebrities who take TA-65.  So the take home point is that with the exception of Roger Daltrey of The Who, who graciously allowed me to mention his use of it in my book, the TA Sciences corporation does not pay any celebrities to promote it so they are silent about it.
I graduated from Harvard with honors in Biological Anthropology prior to earning my Medical Degree and Masters in Public Health from Columbia University.
In 2007, I became the nineteenth patient to sign up for the use of a herbally-extracted telomerase activator.
The results were so positive that I founded Recharge Biomedical Clinic in 2008 and have since become the leading medical expert in this exciting new field of regenerative medicine treating over 1,300 patients with this exciting new telomerase activation medicine.
I won two Houston Film Festival Awards for my screenplays about Hypatia of Alexandria and Ed Brown of Kentucky.
In 2010 I wrote and self-published a Sci-Fi Graphic Novel called
MAXIMUM LIFESPAN
In 2013, I wrote and published "Telomere Timebombs; Defusing the Terror of Aging"
My websites are:
http://www.lokahi.guru
(where you can learn about my RECHARGE adaptogenic supplement)
http://www.rechargebiomedical.com
and
http://www.telomeretimebombs.com
You can sign up for my weekly blogs on this page and subscribe to my YouTube videos at
https://www.youtube.com/drpark65
Latest posts by Ed Park, MD (see all)