These are the premature aging syndromes and they all have to do with cell replication: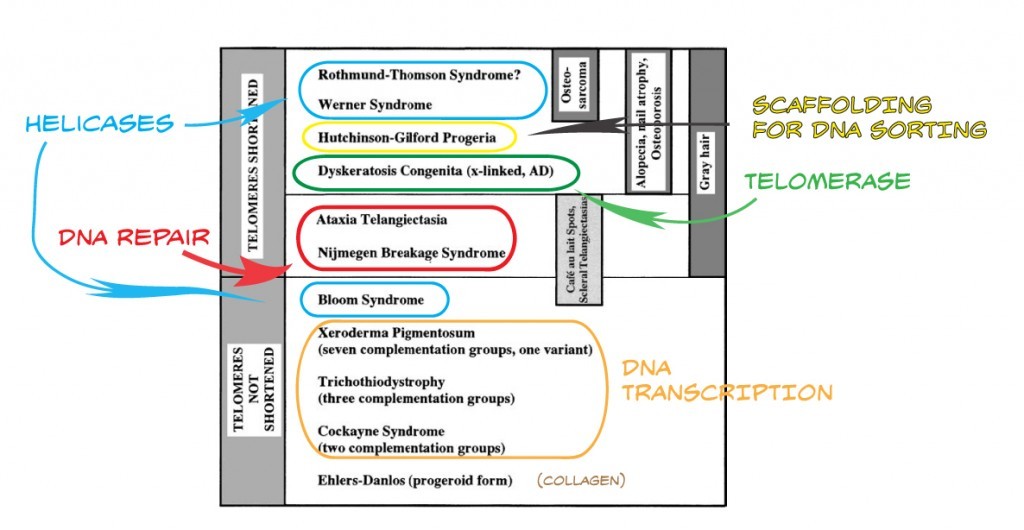 Stem cells need to replicate faithfully and efficiently. When they don't, it's like you are not filling the bathtub quickly enough with water.
---
Now some of the most common oncogenes are failures in the ones charged with carrying out cell suicide, although there are also ones that involve ignoring cell signals of anti-growth, anti-invasion, and vascular formation.
Here is an example of failed suicide (apoptosis) from a larger reference page.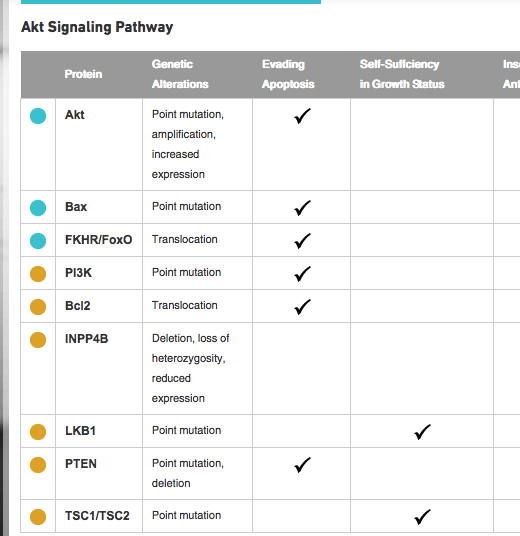 When the oncogenes are mutated and cell-suicide is impaired, it is like you can't fish out the foul stuff from your bath. And when that happens in an immortal, telomerase-active stem cell, you can get a cancer stem cell, and a shot at manifesting a disease that might be hard to fight off.
So in a sense, good health is like keeping a bathtub full of clean water.  The supply of water is nearly endless if we can keep the mesenchymal stem cell library frozen in our cartilage from aging when recruited. And if we can drain out the foul water (mutated stem cells), then we are going to be just fine.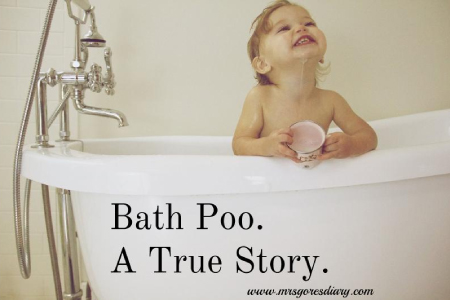 I graduated from Harvard with honors in Biological Anthropology prior to earning my Medical Degree and Masters in Public Health from Columbia University.
In 2007, I became the nineteenth patient to sign up for the use of a herbally-extracted telomerase activator.
The results were so positive that I founded Recharge Biomedical Clinic in 2008 and have since become the leading medical expert in this exciting new field of regenerative medicine treating over 1,300 patients with this exciting new telomerase activation medicine.
I won two Houston Film Festival Awards for my screenplays about Hypatia of Alexandria and Ed Brown of Kentucky.
In 2010 I wrote and self-published a Sci-Fi Graphic Novel called
MAXIMUM LIFESPAN
In 2013, I wrote and published "Telomere Timebombs; Defusing the Terror of Aging"
My websites are:
http://www.lokahi.guru
(where you can learn about my RECHARGE adaptogenic supplement)
http://www.rechargebiomedical.com
and
http://www.telomeretimebombs.com
You can sign up for my weekly blogs on this page and subscribe to my YouTube videos at
https://www.youtube.com/drpark65
Latest posts by Ed Park, MD (see all)