Although we don't yet have the FDA approval for these treatments, many patients are reporting improvement in damaged joints. Basically, everything is aging and as it does, it undergoes "osis". "Itis" is inflamation but "osis" is being tired and burned out, largely because of worn out stem cells in those niches. Older joints are more prone to injury and their poor vascularization and worn out bone makes it harder to repair so surgeons often resect or replace.
The premise is that since your normal body healing is conducted by mesenchymal stem cells and their exosomes, that using exosomes from a newborn placenta's stem cells will encourage regrowth using some form of replication, dedifferentiation, new vasculature, or reduction in inflammation.
Here is a testimonial from a 52yo patient whom I treated for a shoulder labral tear. If you do some research, you will learn that these can indeed heal on their own but that often, surgical resection, fixation, and reduced function after surgery are also common outcomes.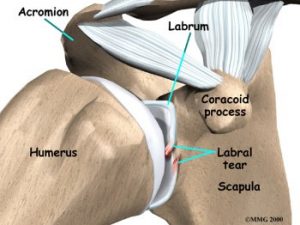 ————————
I tore my right arm labrum in July 2020 while weight lifting and spent 3 months in pain, treating the injury with anti-inflammatories with no healing success. 
Finally in September I went to see an orthopedic surgeon and after an MRI was confirmed I had a labrum tear and the only course of action was surgery. 
Dr. Park was recommended to me by an acupuncturist friend based in California who had common patients with Dr. Park and had seen encouraging results.
I was treated on Nov 19th 2020, with direct injections into the injured area and also intravenously. 
Dr. Park recommended to avoid any strenuous movement with that arm for 5 weeks. After that period, I went to see a sports medicine doctor who told me I was healing very well and asked me to avoid exercising the arm for an additional 5 weeks, after which I would start rehab exercises.
I had another appointment after this period, after which I was confirmed I no longer had a tear, and am now doing light weights to regain my strength.  
I found Dr. Park to be highly professional, very knowledgeable and approachable.  He will always answer your calls and was calling me periodically for updates on my arm.  
I highly recommend Dr. Park and exosomes from Kimera Labs for any tear you might have.  If you have the patience to wait for your body to regenerate cartilage or tissue with the help of exosomes, its well worth it!


Maria Jose Navarro, Nassau, The Bahamas
————————– 
I realize this is hard to understand but there are many proteins and mRNA in the exosomes that could be promoting new growth. Of course, this hasn't been subjected to rigorous peer review or FDA approval. That said, if you recover function like my friend, 53yo Claude, who was able to ski 36 days this season after having severe pain and swelling in past years, it is risk that was associated with clear benefits. 

If you don't believe that new cartilage can regrow then take a look at these knee films from my patient, a 73yo avid skier of large height and weight. He was (and still is) considering knee replacement so I hope that his recent second treatment of 7.5B each knee will regrow even more cartilage for him.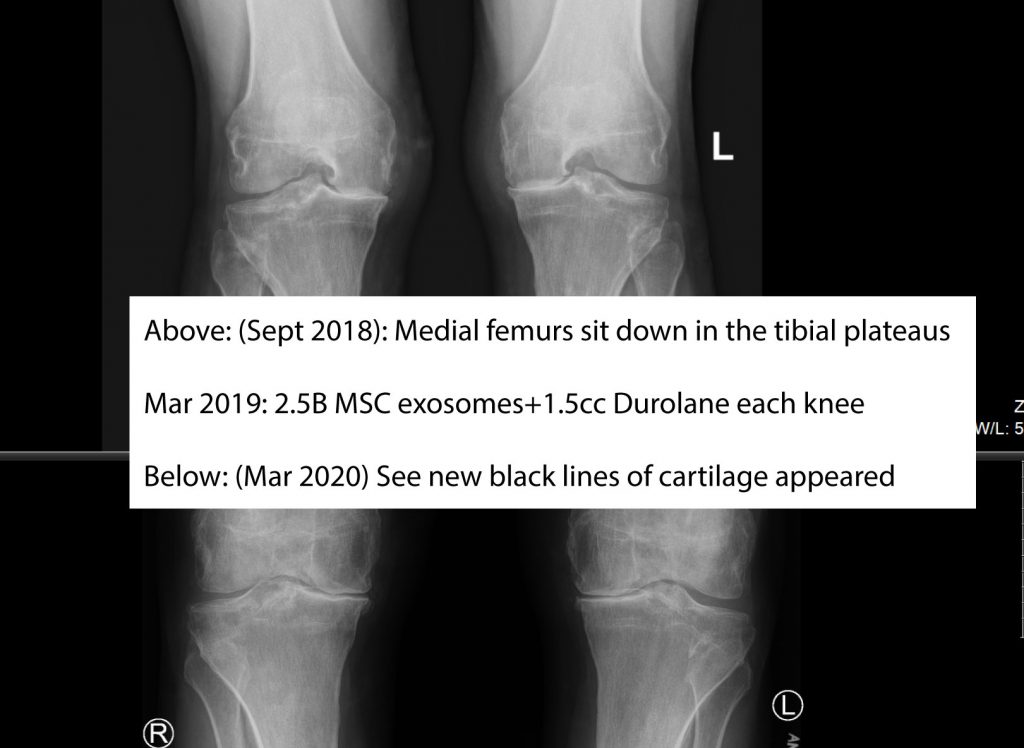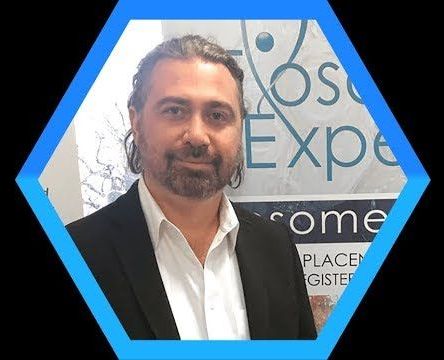 This Tuesday, April 6th at 2PM PST/5PM EST, please join our live webinar to hear from Dr. Duncan Ross, founder and chief scientist at Kimera Labs. I will present some of the product comparison data that they did on their own and their competitors' exosome products. The results will certainly surprise you as they did me!
When: Apr 6, 2021 11:00 AM Hawaii (2PM EST/5PM PST)
Topic: Exosomes Webinar 24: Are all Exosomes the same?
Please click the link below to join the webinar:
https://zoom.us/j/98129580113?pwd=azh0em1ncHpDMW9hd3o2azI1MEpvUT09
Passcode: 177771
DR. PARK coming to LA
I will be seeing patients the week of April 12th in LA. If you are interested or know anyone who may benefit, please have them contact me ASAP at drpark@rechargebiomedical.com
Thank you