I had the pleasure of meeting (for the first time) many of my fellow classmates of 1989 at the 25th Harvard College reunion last year. Sadly, one such person, who was also one of our most accomplished classmates, died suddenly today.  He was Dave Goldberg, tech entrepreneur, CEO of SurveyMonkey, and husband of Facebook COO and author, Sheryl Sandberg (class of '91).
After Dave addressed the class with our survey results, I had the fortune of bumping into him and Sheryl through some common friends. We all enjoyed a relaxed coffee and chat at the Science Center.  One of those classmates was also a famous author of Freakonomics, Steve Levitt.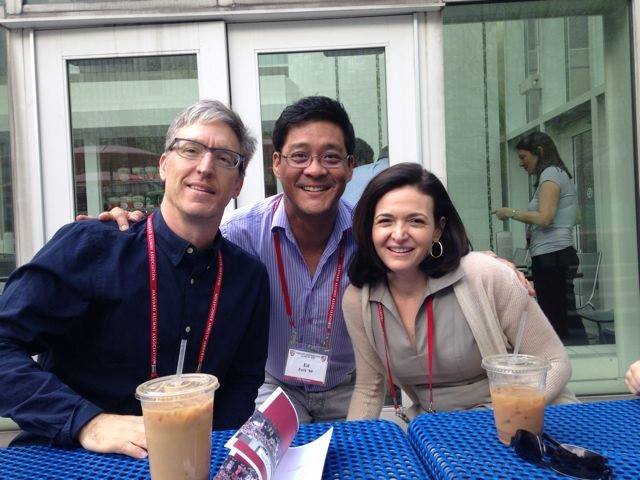 Despite being Silicon Valley's power couple, they were both very approachable and genuine. In fact, Dave struck me as an all-around mensch and he confirmed this when I reached out to him about using SurveyMonkey for my own humble purposes: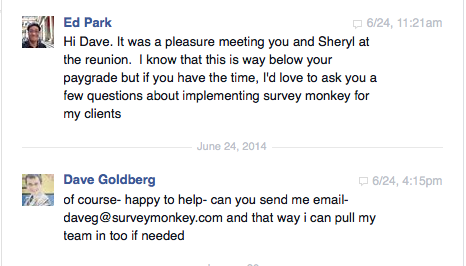 I'm not sure there are many CEOs who would have responded like that but based on my friend's tribute to him, I would say Dave's thoughtful reply was standard operating procedure for him:

So we say farewell to "The good guy of Silicon Valley". I remember seeing "Goldie" on a TV segment recently about the importance of sharing domestic duties and admiring him for it.  Maybe part of his good guy legacy was to empower Sheryl to move our culture forward with his love and support. As the voice of women seeking to "have it all" on their own terms by "leaning in", she must have felt tremendous love and support throughout her mission.
They used to say behind every great man, there is a woman. Well, Dave Goldberg, thank you for being the great man behind this great woman.
May we soon evolve beyond the need to self-identify and judge ourselves and each other from antiquated and limiting paradigms.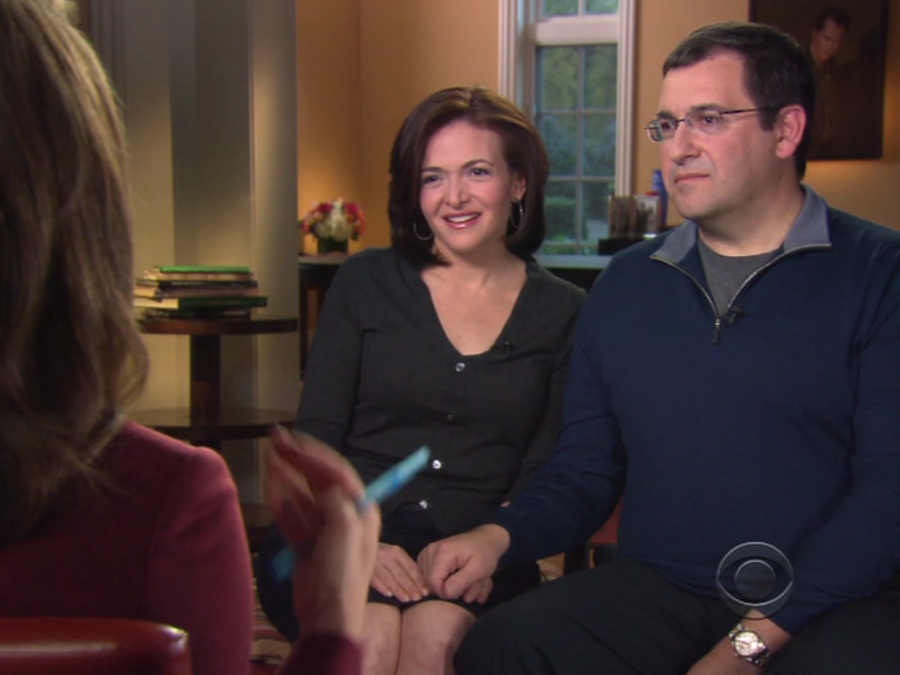 ---
As with so many scheduled events in the Hallowed Halls of Harvard, I came late to the meeting where Dave presented the class with its survey results.  So I felt compelled to watch it tonight, for the first time.  His delivery was witty, poignant and eerily prescient. He said after discussing our gray hairs (paraphrasing) "Unless Harvard stem cell scientists discover something soon, we are all probably closer to our death than our birth".
Well, I respectfully hope that his prediction proves unfounded as custom cell differentiation is on the way and and stem cell rejuvenation with adaptogens like TA-65 and RECHARGE are already here.
Feeling very sad that such a great soul couldn't be here just while longer to benefit from these advances, but we should be grateful for the blessings he bestowed upon those he was fortunate enough to know. His legacy will only grow through the lives of his family that survives him. Rest in peace, Dave. Yours was a life of profound meaning and true kindness.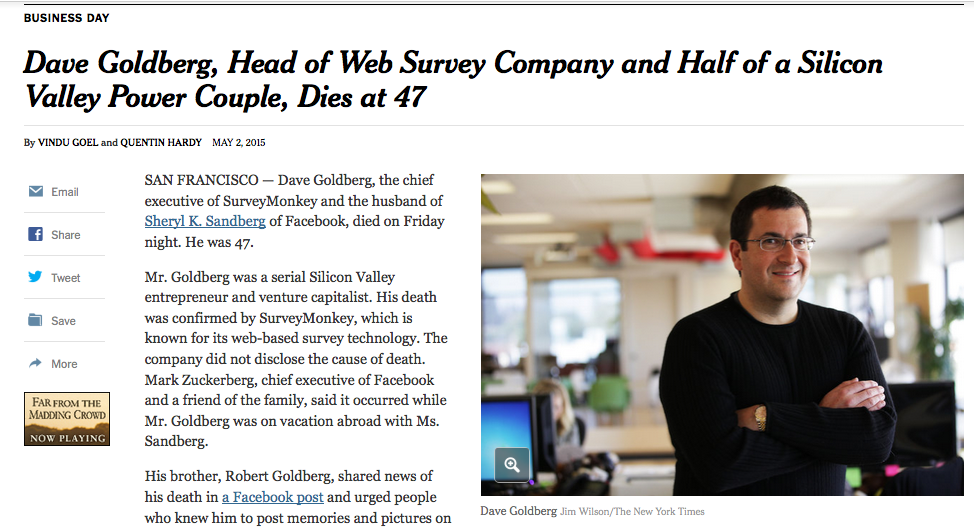 http://www.nytimes.com/2015/05/03/business/dave-goldberg-47-surveymonkey-chief-and-sheryl-sandbergs-husband-dies.html?_r=0
---
As a postscript…
One of the questions on the survey asked "what one word would you like people to use when they talk about you?"  Common answers were "kind", "integrity","smart".  I'm certain Dave could be considered all three.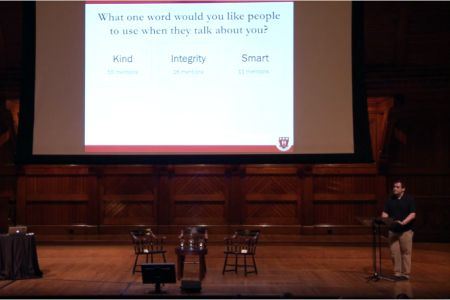 But when an undergraduate comedic interviewer asked current students what they wanted to do in 25 years, most replied "finance, for the money" or made silly or sarcastic utterances.  Granted it was created for comedic effect and that much of the pith and pathos was left on the editing room floor.
Still, the skit rang inadvertently unfunny to me because I can honestly say that the importance of kindness and integrity were definitely set into stark relief with 25 years of wisdom behind us. Would that the college would integrate some schmaltzy "meaning of life" curriculum into the student body before loosing these "best and the highest earning potential" upon the world…I hope they will offer the students a course in another class of '89ers wisdom: Sonya Lyubomirsky, author and professor of happiness studies.
As the line from Fiddler on the Roof goes:
"I promise you'll be happy. And even if you're not,
There's more to life than that. Don't ask me what!"
Certainly happiness is important, as is meaning, and money, and mission, and yadadadad… But  I think why so many admired David was that he integrated happiness into his complex life; he was an lead-by-example mentor for all of us so obsessed with the other check boxes of life.