In this article, an experiment showed that human/dog pairs release oxytocin whereas between dogs? Not so much.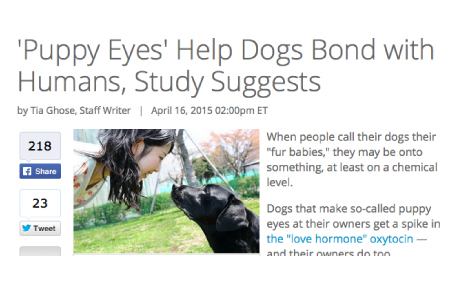 http://www.livescience.com/50509-dogs-use-human-bonding.html
It would seem that it's a "dog-eat-dog" work amongst dogs, but when they are looking to be adopted and cared for by humans, they have co-opted the infant-parent cuteness that keeps us from abandoning our own young.
---
Did you realize?
Dogs have the exact same telomerase mechanism as humans and are a wonderful example of how telomerase activation can enhance their lives, even with life-threatening cancer. In this video, we get to know Lulu and how she bounced back from metastatic osteosarcoma for a very long time while using an adaptogenic telomerase activator.

I graduated from Harvard with honors in Biological Anthropology prior to earning my Medical Degree and Masters in Public Health from Columbia University.
In 2007, I became the nineteenth patient to sign up for the use of a herbally-extracted telomerase activator.
The results were so positive that I founded Recharge Biomedical Clinic in 2008 and have since become the leading medical expert in this exciting new field of regenerative medicine treating over 1,300 patients with this exciting new telomerase activation medicine.
I won two Houston Film Festival Awards for my screenplays about Hypatia of Alexandria and Ed Brown of Kentucky.
In 2010 I wrote and self-published a Sci-Fi Graphic Novel called
MAXIMUM LIFESPAN
In 2013, I wrote and published "Telomere Timebombs; Defusing the Terror of Aging"
My websites are:
http://www.lokahi.guru
(where you can learn about my RECHARGE adaptogenic supplement)
http://www.rechargebiomedical.com
and
http://www.telomeretimebombs.com
You can sign up for my weekly blogs on this page and subscribe to my YouTube videos at
https://www.youtube.com/drpark65

Latest posts by Ed Park, MD (see all)