I like to study interesting and pivotal real people and if the spirit moves me, I write a screenplay about them.
Briefly, Robert Alexander Sr. was a 19-yo Scottish disciple of Ben Franklin who in 1786 followed him to America. He bought a farm in the wilderness of Kentucky.
At the age of 52, in 1819, a son was born to him, whom he proudly named Robert Alexander Jr, who was, more than anyone one person, responsible for the Kentucky Derby being run today. Without him, horse racing in Kentucky would not have grown and might not have survived.
Robert Alexander Jr., heir to the Chancellor of the Exchequer of the Bank of England and educated at Trinity College in Cambridge, returned to the wilderness of Kentucky to be the owner of world-famous Woodburn Stud Stables near Lexington and he was the first to systematically document the lineages of horses into breeding records in the prewar period.
With their victory in the Civil War secured, industrialists and bankers from the north sought to dominate the sport of racing and its breeding with their superior access to capital.  Alexander helped to codify breeding, then established stud books as public record, then persuasively helped to brand Kentucky as the home of the thoroughbred during a time when the industry was subject to collapse at the end of The Civil War.
Robert Alexander actively promoted Kentucky bluegrass breeding and established a NY-based trade periodical called Turf, Field, and Farm that kept track of sales and kept Kentucky relevant.  After his death, this publication even published nationally serialized articles about Kentucky's horse culture penned by none other than Federal occupation General George Custer.
---
You can download my screenplay, The Brown Dick, here.  In it, I have fused the man of Robert Alexander with his slave and jockey, Edward Dudley Brown, who was nationally famous as "The Brown Dick" or "Alexander's Dick". There is no historical record of Edward being Robert's illegitimate son but it just felt right to do so.

---
The meticulous cataloging of the provenance of winners in the Sport of Kings is how  we know that African-Americans were the premier jockeys and not just ironic lawn ornaments in the nation's only national sport.
It 1875, the when the first Kentucky Derby was run, a staggering 13 out of 15 jockeys were African-American.  Oliver Lewis, was told by the owner to let his stablemate win and this was the last time Oliver Lewis rode professionally.   Why so many black jockeys?  Well, Kentucky was the birthplace of the Ku Klux Klan and a hotbed of anti-Reconstruction racial terrorism, so the only reason the white owners let blacks ride for them is because they wanted to win.
In a feat of athletic dominance only ended by poisoning, the greatest jockey to ever live was African-American Isaac Burns Murphy who won 34% of his starts. Not place or show, but outright won…this is a feat that can never be again repeated.
---
I wish to draw your attention to the jockey in this famous painting, The Undefeated Asteroid, by the per-eminant horse painter, Swiss Edward Troye, who was a permanent house guest of Robert Alexander at Woodburn Stud.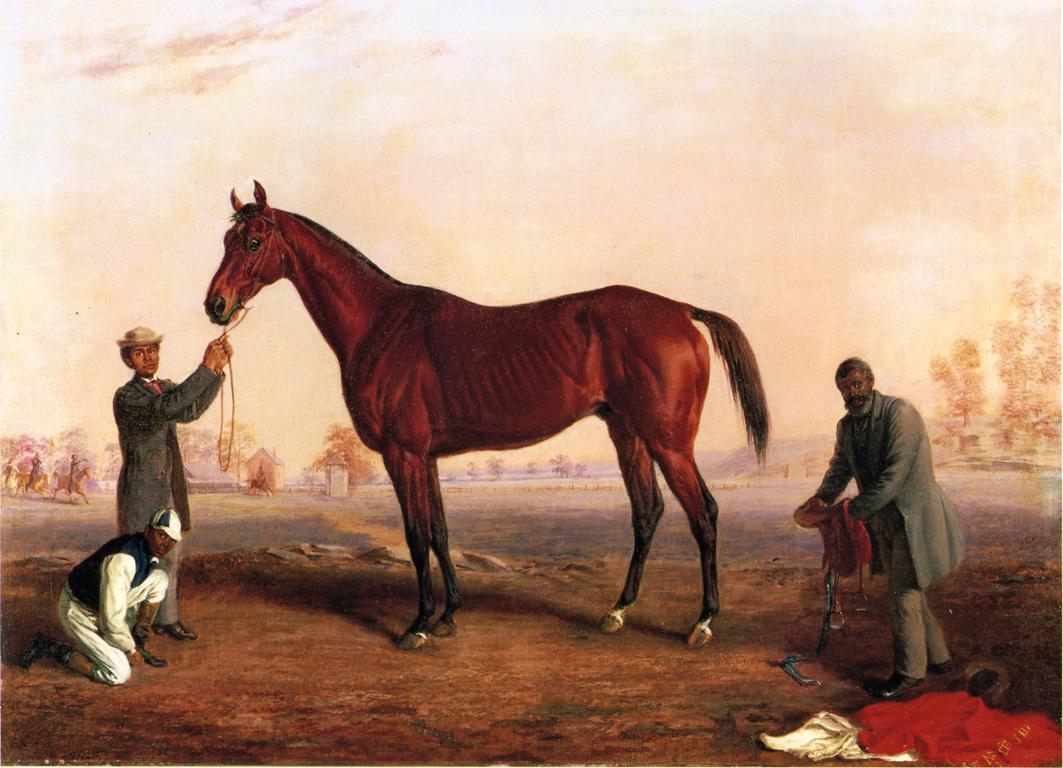 This 12-yo Edward Dudley Brown jockey was undefeated in 12 starts on his beloved 3-yo colt, Asteroid, next to whom he was laid to rest.
Hidden in this, the second version of the painting, are chilling echos of history.  At the end of the Civil War, the entire country and the national media, led by Yankee horsemen and oligarchs Travers, Belmont, and Jerome, was demanding an "Ali versus Frazier" series of races between Asteroid, owned by Robert Alexander Jr. and his half brother named Kentucky, also sired by the Woodburn Stud's stud, Lexington.
In the background, Troye depicted the story of actual horse thieves who stole Asteroid once and demanded ransom are seen.  After the first raid, Edward slept in the stables and put the horse's embroidered garments, depicted here lying on the ground, onto the wrong horse to deter future thieves, who did strike again.
Young Edward D. Brown is seen crouched here, in the posture of this famous abolitionist symbol. This was deliberately done by Troye, who flipped the post-robbery version of this painting to make this possible.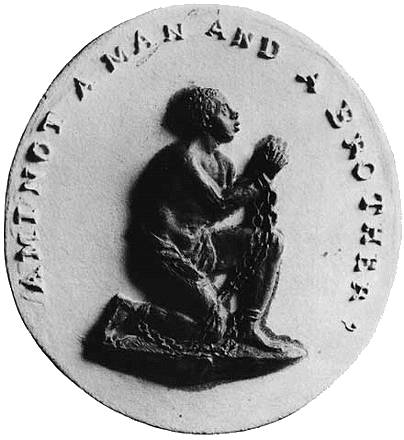 Robert Alexander, only in my story, is assassinated by his own brother in 1867 because Robert planned to legitimize Edward's birthright and to marry his mother, a former slave.  In a case of reverse-nepotism, Robert's brother, AJ, kept Edward on as a trainer but sought to curtain his success, prompting Edward to strike out on his own.
Whatever the truth of his paternity, Edward was born into slavery but was a consummate master of whatever he did.  As a 18yo jockey, he won the Belmont Stakes. He bred and trained multiple Kentucky Derby winners.  He maintained his own stables and Travers and even owned a Kentucky Oaks winner, Monrovia, and had his horse Ulysses, run in the Kentucky Derby.
---
POSTSCRIPT
Perhaps as a result of his own "good breeding", Robert Alexander brought systematic records of sires and dams into American horse breeding.
Because of the denial of paternity associated with slave owners and their forsaken biracial children, the subject of paternity is a fascinating one and creates the tension in this story.
I imagine that everything about Edward Dudley Brown's name was invented by the man himself.  Instead of being Robert Alexander III as in my fictional rendering, he is relegated to taking the surname Brown, for his nationally-known nickname of "The Brown Dick". He was Edward because he grew up with and admired the painter, Edward Troye, like a second father.  And the Dudley comes from a kindly pastor whom I conjured up in my story to illegally teach our hero to read.
For a more complete and nuanced view of the history of Kentucky, read Maryjean Wall's wonderful book, How Kentucky Became Southern.
To read about the rich history of black jockeys, read Edward Hotaling's fantastic book, inspired by Jimmy "the Greek" and his racist remark about blacks being "bred" for athleticism, The Great Black Jockeys.
PPS: If you want to see a masterpiece of picaresque cinema which lampoons social mobility, good breeding, and nobility, you must watch Stanley Kubrick's masterpiece, Barry Lyndon.