I realize that most people would not agree with me but in my opinion, this race between 90-year-olds is a bit ageist: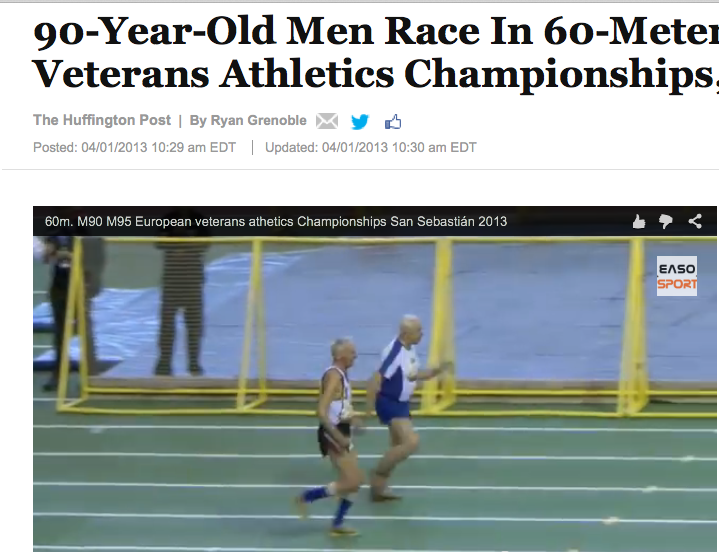 http://www.huffingtonpost.com/2013/04/01/90-year-old-men-race-sprint_n_2989017.html
If we couldn't see their faces and didn't know their ages, we wouldn't think this was very athletic.  Someday soon, we will not consider age to be very important and the existence of a contest between two genetically-damaged individuals will not be elevated to a noble spectacle but will seem exploitative.
What do I mean by this?  Well consider this video of a "love song" by the Folk-rock-comedy duo, The Flight of the Conchords, that makes light of the back-handed compliment that is the qualifier.
"The Most Beautiful Girl in the Room"
If you have to qualify a compliment or a contest by saying, "yes, but they're 90-years-old" then you are victim to an ageism that will someday seem as inappropirate as calling a racially-denegrated person 'articulate'.
---
Watch this video of my friend Martin Katz, our rep and current user of the RECHARGE supplement, and you will not have to qualify 18 pull-ups with his age of 70 years. 18 pull-ups is good better than 99% of anyone, regardless of age.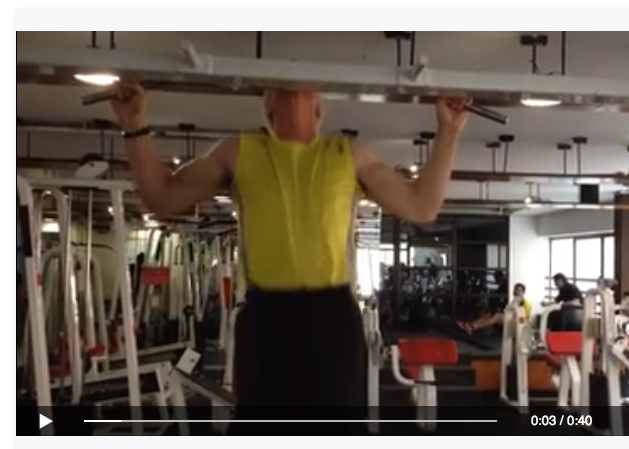 https://www.facebook.com/video.php?v=770967619643946&pnref=story
Oh, and by the way, Martin is training to break the 70-year-olds' record and in doing so, he routinely runs past high school sprinters at his local track.  Maybe it's time to reevaluate your assumptions about what you can do if you have the right adaptogenic support and mindset.
I graduated from Harvard with honors in Biological Anthropology prior to earning my Medical Degree and Masters in Public Health from Columbia University.
In 2007, I became the nineteenth patient to sign up for the use of a herbally-extracted telomerase activator.
The results were so positive that I founded Recharge Biomedical Clinic in 2008 and have since become the leading medical expert in this exciting new field of regenerative medicine treating over 1,300 patients with this exciting new telomerase activation medicine.
I won two Houston Film Festival Awards for my screenplays about Hypatia of Alexandria and Ed Brown of Kentucky.
In 2010 I wrote and self-published a Sci-Fi Graphic Novel called
MAXIMUM LIFESPAN
In 2013, I wrote and published "Telomere Timebombs; Defusing the Terror of Aging"
My websites are:
http://www.lokahi.guru
(where you can learn about my RECHARGE adaptogenic supplement)
http://www.rechargebiomedical.com
and
http://www.telomeretimebombs.com
You can sign up for my weekly blogs on this page and subscribe to my YouTube videos at
https://www.youtube.com/drpark65
Latest posts by Ed Park, MD (see all)