This study, from the British Medical Journal, looked at the prospective cohort of 121,700 US female nurses ages 30-55 and prospectively collected data on demographics, lifestyle, and disease.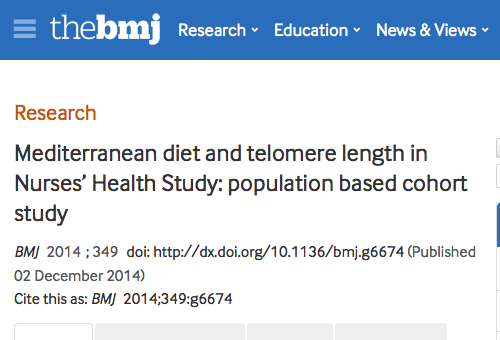 http://www.bmj.com/content/349/bmj.g6674
From the 4,676 available history/blood samples, they were able to find an association with the Mediterranean diet and longer telomeres in white blood cells, which we generally consider to be a biomarker for longevity and health.
Despite the limitations of the quantitative PCR telomere measurements, recall bias, and statistical confounding, they appeared to conclude what they were looking for.
That is to say, eating a Mediterranean diet was highly correlated with longer telomeres even after correcting for the big confounding variables of age, BMI, smoking, physical activity and total caloric intake.

What's in that diet according to this paper by Crous-Bou et al?
"Alternate Mediterranean Diet score includes the following nine components: vegetables (excluding potatoes), fruits, nuts, whole grains, legumes, fish, monounsaturated:saturated fatty acid ratio, red and processed meats, and moderate alcohol intake."
I graduated from Harvard with honors in Biological Anthropology prior to earning my Medical Degree and Masters in Public Health from Columbia University.
In 2007, I became the nineteenth patient to sign up for the use of a herbally-extracted telomerase activator.
The results were so positive that I founded Recharge Biomedical Clinic in 2008 and have since become the leading medical expert in this exciting new field of regenerative medicine treating over 1,300 patients with this exciting new telomerase activation medicine.
I won two Houston Film Festival Awards for my screenplays about Hypatia of Alexandria and Ed Brown of Kentucky.
In 2010 I wrote and self-published a Sci-Fi Graphic Novel called
MAXIMUM LIFESPAN
In 2013, I wrote and published "Telomere Timebombs; Defusing the Terror of Aging"
My websites are:
http://www.lokahi.guru
(where you can learn about my RECHARGE adaptogenic supplement)
http://www.rechargebiomedical.com
and
http://www.telomeretimebombs.com
You can sign up for my weekly blogs on this page and subscribe to my YouTube videos at
https://www.youtube.com/drpark65
Latest posts by Ed Park, MD (see all)