At last, we have a well-designed study showing TA-65 lengthens telomeres in human subjects.
Salvador et al (Rejuvenation Research.2016 Mar 30]
This was a double-blinded (patients and researchers not aware what substance was taken), placebo-controlled (half were given 'inactive' substances), randomized controlled trial (assignment to treatment at two doses versus non-treatment was done randomly therefore minimizing the risk of unknown confounding variables).  The study was small but that is only a problem if you don't find something. In this case, findings did reach statistical significance for the low dose TA-65 and control groups.
The study was conducted on 117 relatively healthy Barcelonian cytomegalovirus-positive subjects aged 53–87 years old.
23 subjects received one TA-65 capsule (250 U) and three placebo capsules;
22 subjects received four TA-65 capsules, each consisting of 250 U of TA-65 (i.e., 1000 U/4 capsules).
Fifty-two subjects received four placebo capsules. 
Here is a table highlighting the statistically-significantly findings: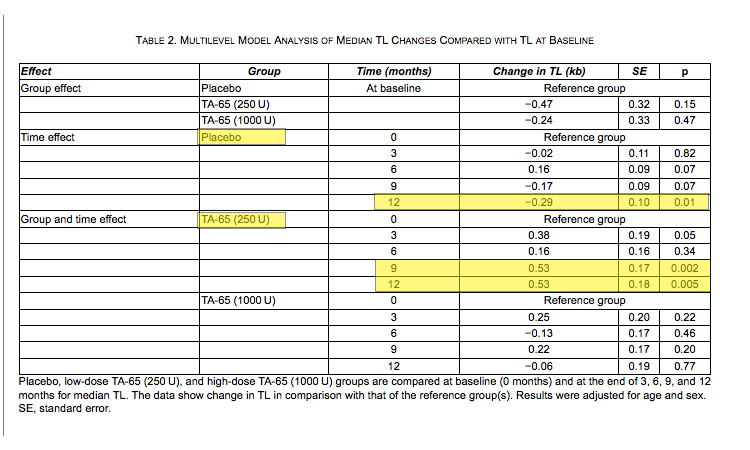 As we can see, there was a decrease of 290 base pairs among the placebo group and an increase in 530 base pairs in the TA-65 (250 U) group.  Compared with the placebo group and assuming 100 base pair erosion per year (actually can vary a lot but 50-200 is typical), we can say that the low-dose TA-65 group GAINED SEVEN YEARS of viable telomere length.  If we assume that 250 per year is normal erosion in this group, then the swing would only be +3 years)
Here are the results from the 20%ile of telomeres, indicating even more significant (lower P values) finding associated with the DISTRIBUTION of telomeres.  In other words, the net change in the 20%ile decreased for placebo users and increased for the low dose TA-65 users.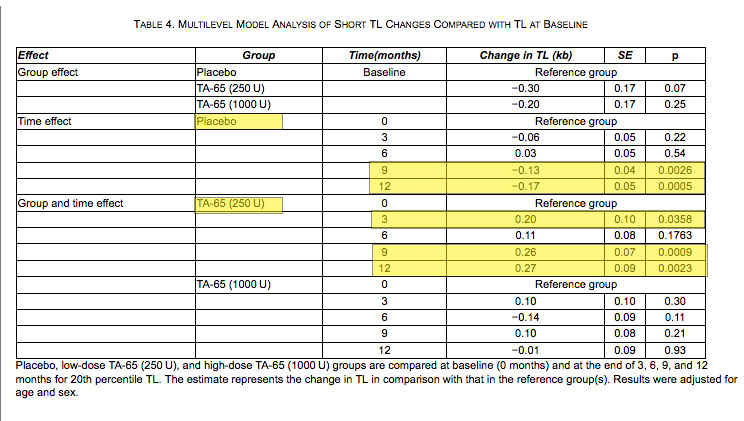 This study focused on CMV-positive subjects of an older group because a previous study had suggested this group of individuals have significant changes when exposed to TA-65.
There may be some suggestion that the higher dosing was less effective and indeed, data from the patent application also suggests diminishing returns at higher concentrations.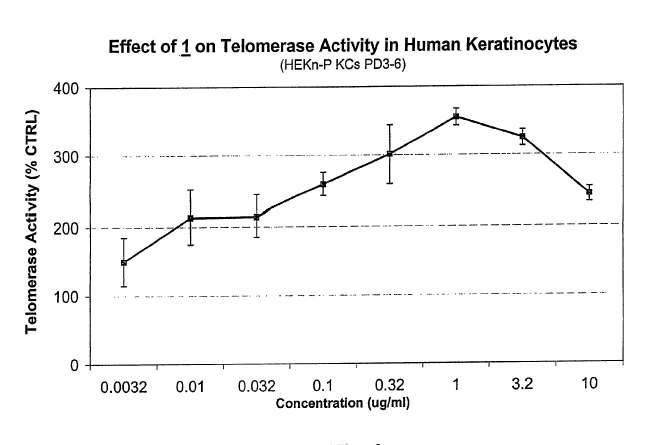 So is less really more when it comes to taking TA-65?  That is what this study would indicate!
As far as clinical effects, I seem to notice more prominent effects of higher doses as measured by heuristics such as sleep changes, mood, recovery, and exercise.
Although the current data do not bear this out, I believe that higher doses may be activating more apoptosis and therefore causing loss of both very long and short telomeres.  I know that one of my worst patient results became the best after high dose TA-65 as I blogged about here.

Knowing what we know about the importance of telomeres in maintaining health and longevity and given the safety of this supplement, would you consider spending $2,000 for 7 years more length on your biological clock?
If you would like to try TA-65 and receive our instructions on how to best maximize your benefits, order from me at rechargebiomedical.com
---
If you would like to know what you telomere measurements are doing while taking TA-65, please contact Susie@rechargebiomedical.com to pre-order a Life Length testing kit now.  Life Length was the company that conducted the above study which was paid for by TA Sciences, although the blinding was secured.

There is a Spring promotion through the end of April, 2016 and the cost has dropped nearly 65% and for a short time, will be same as other simpler technologies.