Like most conditions, poor telomerase activity occurs in cells which are under-performing.
In this experiment, when the bone-making cells of mice were engineered to have a genetic deficiency in telomerase activity, the viability of those osteoblasts in terms of the ability to keep dividing suffered. They also knocked out a gene  responsible for winding DNA and is defective a premature aging syndrome known as WRN RecQ Helicase.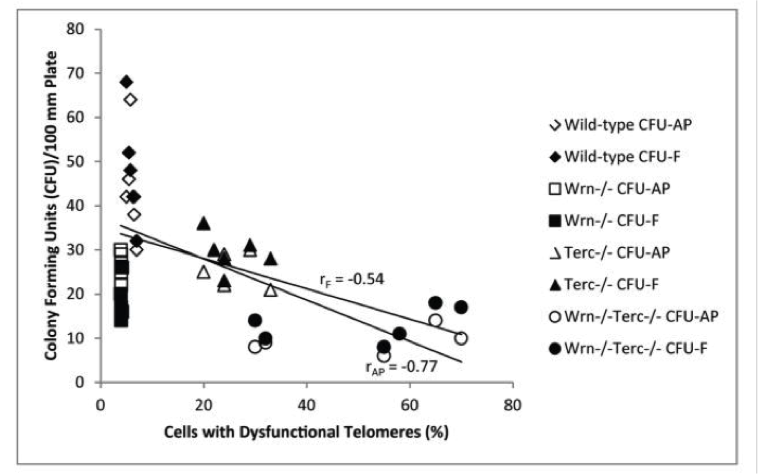 This diagram shows that the wild-type mice (diamonds) had low dysfunctional telomeres and high ability to reproduce (colony forming units).  If you took away the helicase (squares), they had low ability to reproduce with low levels of dysfunctional telomeres (which shorten only when cell division is allowed to occur).
If you knocked out just the TERC, the key required for telomerase to work (triangles)  you got high telomere dysfunction (short and damaged) and low ability to reproduce.
And if you knocked out both helicase and TERC (circles) you got the lowest ability to reproduce and very high rates of telomere dysfunction.
(Wang et al. Impairment of Osteoblast Differentiation Due to Proliferation-independent Telomere Dysfunction in Mouse Models of Accelerated Aging.  Ageing Cell. 2012 Aug; 11(4): 704–713.)
This is in keeping with my stem cell theory of aging in the bone – replicative senescence and the resultant DNA damage results in less viable bone-producing cells and osteoporosis. But the same process is at work in all organs.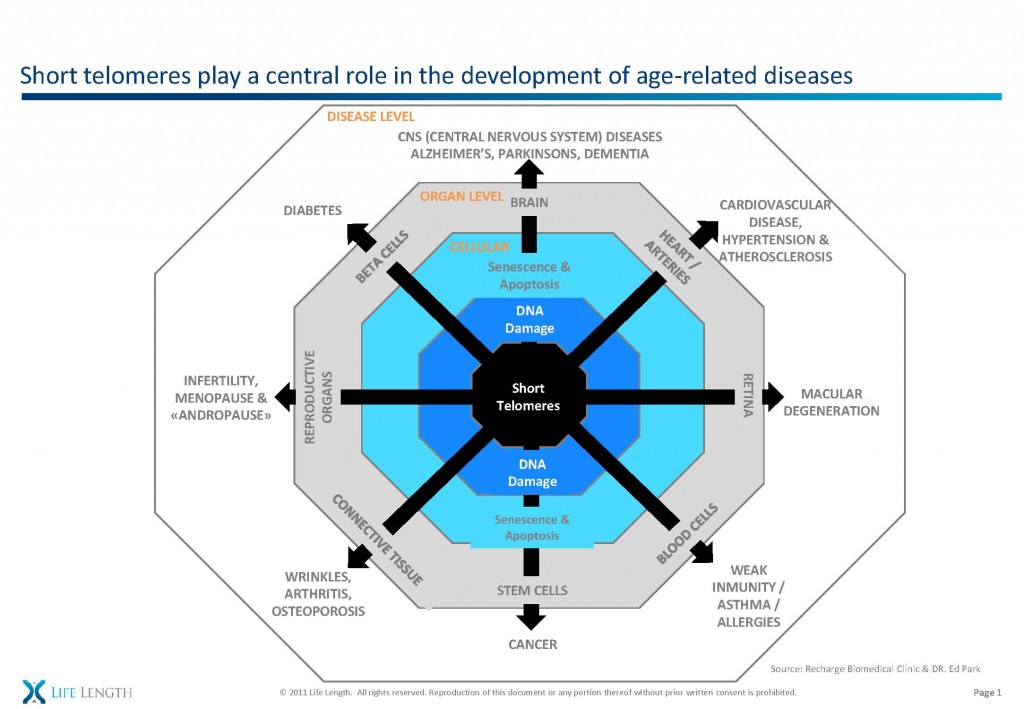 For more information, watch this webinar I did on osteoporosis:
I graduated from Harvard with honors in Biological Anthropology prior to earning my Medical Degree and Masters in Public Health from Columbia University.
In 2007, I became the nineteenth patient to sign up for the use of a herbally-extracted telomerase activator.
The results were so positive that I founded Recharge Biomedical Clinic in 2008 and have since become the leading medical expert in this exciting new field of regenerative medicine treating over 1,300 patients with this exciting new telomerase activation medicine.
I won two Houston Film Festival Awards for my screenplays about Hypatia of Alexandria and Ed Brown of Kentucky.
In 2010 I wrote and self-published a Sci-Fi Graphic Novel called
MAXIMUM LIFESPAN
In 2013, I wrote and published "Telomere Timebombs; Defusing the Terror of Aging"
My websites are:
http://www.lokahi.guru
(where you can learn about my RECHARGE adaptogenic supplement)
http://www.rechargebiomedical.com
and
http://www.telomeretimebombs.com
You can sign up for my weekly blogs on this page and subscribe to my YouTube videos at
https://www.youtube.com/drpark65
Latest posts by Ed Park, MD (see all)