In this post, I would like to address a cultural zeitgeist, of a 30yo man being evicted from his parents' home:
https://www.cnn.com/2018/05/22/us/judge-rules-son-must-move-out-new-york-trnd/index.html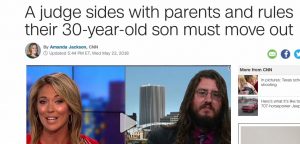 To understand the subjective nature of truth, I recommend reading this old blog about the movie, Rashomon.
The mainstream narrative of this man's story focuses on the comedic rather that the tragic. I would like to tell this story, Rashomonesque, in four different ways:
) The WTF is wrong with millenials take. Any man who is such a poor houseguest that his own parents have to take him to court is an entitled, incompetent fool that deserves derision
Michael's view: Conditions beyond my control have made it impossible to afford my own place and since my parents are honor-bound to nurture me, they have crossed a line in trying to evict me, especially when my life is in such chaos.
Blame the parents: The parents did such a poor job inculcating adult responsibility into this person that they are suffering the results of their own karma. Not only did they fail to teach responsibility with rights, they enabled him with their coddling.
Blame society: The broader culture has allowed the cost of living to increase with the available jobs to decrease. It has failed to inculcate millenials with the values of self-reliance, shame, and resilience required to survive without the aid of parents and has generally normalized the "failure to launch" syndrome as within the acceptable range of normal.
This raises the much more interesting broader question of narrative and how it serves to color our judgements.
What if, for a moment, we allow all of the four stories to coexist within the same space? It doesn't change the facts but it does allow for better understanding of the complexity of this cubist painting of modern life.
In my book, The Telomere Miracle, I explain that human cognition is based on feelings. What's more interesting is that when we sleep, the REM portion of the night constructs meaning from these stories. With the powerful appeal of our own victim stories, whether based in reality or simply spun from rationalizations and delusions, most people construct meaning and moral certitude out of what others might consider bull crap.
So if you want to live a virtuous life, don't always believe to your own stories. Read my book to understand that you can "hack" your own narrative as it is being constructed by the "demons" that inhabit your ego.
There are many areas in all our lives where we may be believing nonsense just to get by. We often can't rely on others close to us to give us honest feedback. It is important to go to sleep with abundant thoughts of gratitude, lest we cast ourselves as helpless victims to serve a disempowering agenda.
The way forward is rarely to blame others; the road forward, as Phil Conners learned in Groundhog Day is to live the same mistaken story repeatedly until you learn your lessons of love, gratitude, and progress.