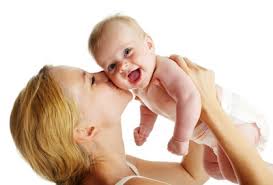 In my book, Telomere Timebombs, I tell the story of Nina, an 41-year-old Austrian woman with lifelong infertility who conceived while taking TA-65.  After a difficult pregnancy, there was the elation of Marcus' birth, followed by trials of post-partum depression, then the near-fatal car accident of her husband that left him in a coma with the likelihood of permanent brain damage.
Thankfully, after resuming the TA-65, her postpartum depression subsided.  After three months of TA-65, Richard's impairments were gone, which was an unexpected deliverance when she really thought she might have to raise her child without a father. We can't say the TA was directly related to those improvements but she certainly believes so.
Well fortune's wheel keeps turning and today I was thrilled to learn that not only is she the proud mother of a perfect 16-month-old boy, but another genetically-normal 16-week-old baby!
Considering she had given up childbearing at 32 and was with without periods for many years, this new addition is an unexpected blessing at 43 years of age.  For those who may not know, the chances of having a normal baby at her age are nearly zero using one's own eggs.
Whatever the reasons, Nina feels she has much to be grateful for this holiday season and I am very grateful for her continuing to share her glad tidings with us.