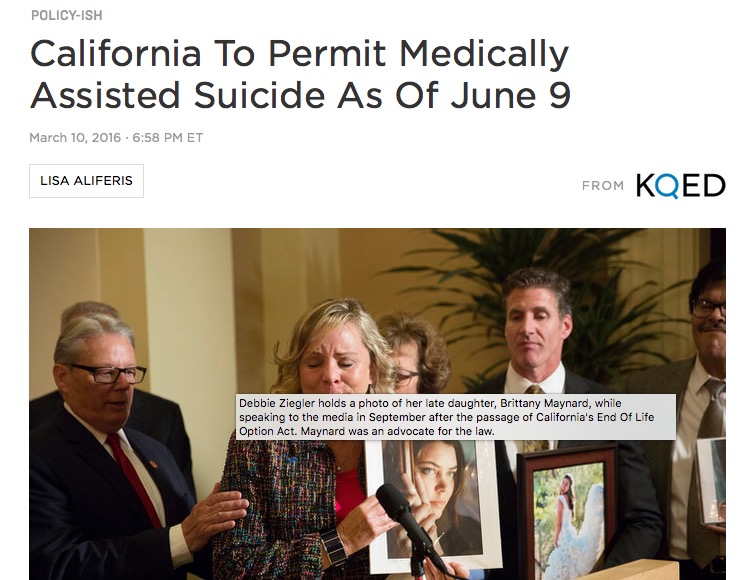 Today, California joined Vermont, Oregon, Montana, and Washington as the fifth state to allow physician-assisted self-termination by prescribing life ending medications. Click the image for the story from which this excerpt is taken:
As written, the law requires two doctors to agree, before prescribing the drugs, that a patient has six months or less to live. Patients must be able to swallow the medication themselves and must affirm in writing, 48 hours before taking the medication, that they will do so.
How have we come from the moral outrage over Dr. Jack Kevorkian to legislation legitimizing this practice? I don't know. But I do have some misgivings.
Firstly, doctors are not gods and they cannot reliably predict who has six months or less to live. These probabilistic statements are impossible to make. Witness President Jimmy Carter who had metastatic melanoma to his brain only to be eradicated by immunotherapy that restored his immune competency.
Secondly, the involvement of physicians, who get paid by the health care system, sets up a conflict of interest situation when health plans might easily want to switch from paying for experimental or comfort care to expediting the end-of-life option. Physician-assisted suicide has long been practiced on a case-by-case sub rosa level with the anguish and personal involvement of an ethical and involved personal physician. Now it reeks of some kind of "death panel" and that should concern us as a society and consumers of so-called "health care".
Thirdly, there can always be cures from science or by the patients themselves who can use their own innate capacity to heal. Consider the "incurable" disease of PMR, which causes chronic debilitating pain; and consider this anecdotal evidence of improvement in my webinar.
In this scene from Star Trek, actor Deforest Kelly (as Dr. McCoy) recalls the tragedy of his father's assisted suicide just a short time after the "incurable and fatal" condition of his suffering was cured by science:
Dr. McCoy and his Father (Physician Assisted Death)
So how did we get to legislation protecting a new generation of would-be Kevorkians when that used to be such a negative association? As you will read in this blog, the job of physician has always been a sort of slow-motion suicide counselor and the physician has always held hopelessness to be its core belief. Allopathic medicine has misconceived life as the slow and inevitable decay of the body to be clumsily and fecklessly managed with newer pharmaceuticals. All attempt at using natural means such as diet, mindset, alternative therapies, and herbs have been marginalized as a matter of near religious fervor.
I am grateful that my perspective on the hopelessness of life and the merits of trying to stay young and healthy have shifted because this new legislative fig leaf is not a boon to patients but rather an uncovering of the dark subtext of much of what passes for the healing arts.
Life is a precious gift meant to be savored until the bittersweet end with loved ones. It is not something that you have two bureaucratic physicians agree is hopeless and worthy of ending with a pill.
Late Fragment  (by Raymond Carver)
And did you get what
you wanted from this life, even so?
I did.
And what did you want?
To call myself beloved, to feel myself
beloved on the earth.