I have been a bit remiss posting about studies because in my mind, there isn't much point. There are over 20,000 studies and the vast majority show telomere shortening is related to all nearly all diseases.
Since I am busy preparing for a talk tomorrow, I will just post about this study linking shorter telomeres to mesothelioma.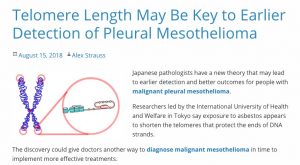 Some confusion occurs because once malignant transformation occurs, the telomeres are free to lengthen and the results from simply measuring total telomere signal without assessing the integrity of the chromosomes will show an association of more telomeres with advanced cancer.
The best study demonstrating the clear causal relation of telomere shortening to cancer is the JAMA study by Willeit et al.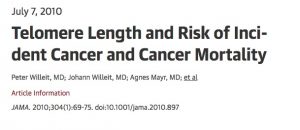 For more information about why telomerase doesn't cause cancer watch this video that I did:
Just a reminder: my stem cell/telomere theory of aging and disease is a necessary and sufficient explanation for nearly every disease you can imagine. There is only one disease with many faces. Read Telomere Timebombs for more info.