"Men, it has been well said, think in herds; it will be seen that they go mad in herds, while they only recover their senses slowly, and one by one."

– Extraordinary Popular Delusions and the Madness of Crowds. Charles Mackay (1841)
After last blog attempting to explain the public health and the context of COVID-19, I received a bit of support and a fair amount of criticism from some fairly intelligent (but ignorant) Facebook friends. Based on the confirmatory bias/social etiquette, it is probable that many more people disliked my blog than liked it.  You can read the comments here.
When I say they are ignorant, I mean they ignore the central argument that I made which is that the annual influenza pandemic is a greater threat and yet we never self-quarantined or shut down every aspect of society. The attacks were of the other six types on this pyramid.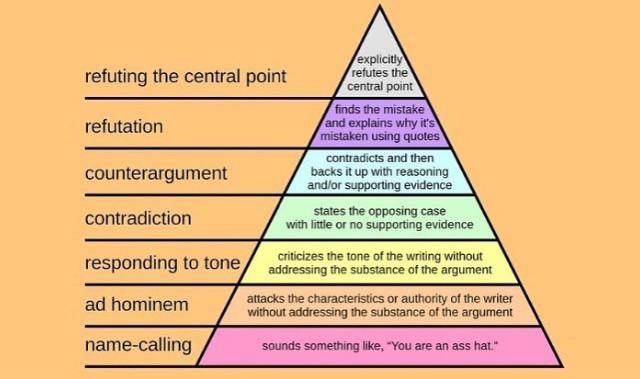 In truth, we are witnessing the emergence of a new religious death cult and you can't argue religion when the existence of the supernatural delusions are held as axiomatic. The "Corona-creed" holds three core beliefs:
1) We have to create social distancing to "flatten the curve", 
2) COVID-19 is exceptional, and
3) Actions taken are worth the risks to prevent an inevitable apocalypse.
Let me address all three articles of the faith and then end with an explanation of viruses and immunity.
"Flattening the curve"
Armchair epidemiologists post this graph to justify closing their schools, cancelling their meetings, declining handshakes, and fueling the hysteria.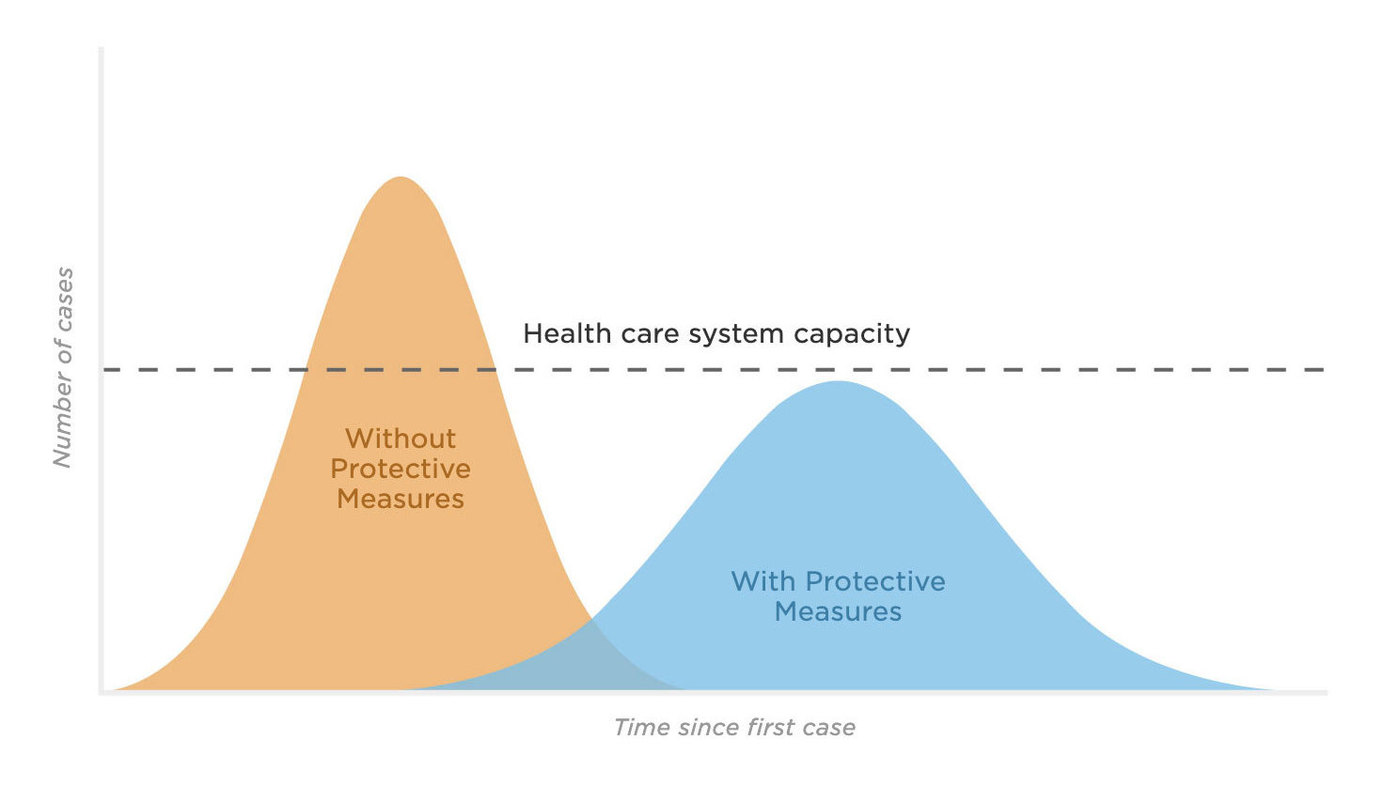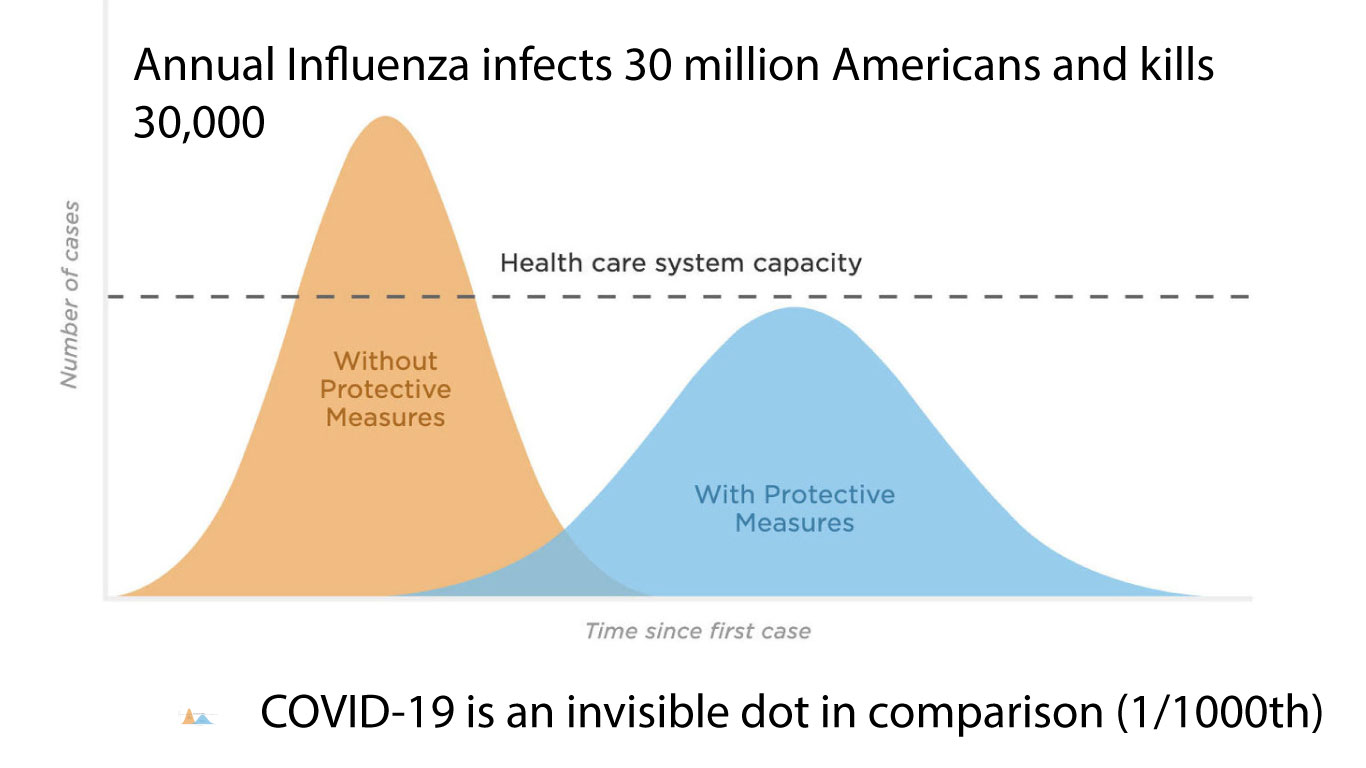 I don't dispute for a moment that social distancing and shutting down society will "flatten the curve". But I do dispute that it is worth it. The world is collapsing over something that is three orders of magnitude less significant than the annual flu.
---
"This time it's different"
Ah yes, the exceptionalism argument. No one knows for sure what the true mortality is, whether this strain was artificially tweaked, or what the material differences of this strain are compared with previous ones. In the absence of a whistleblower at a bioweapons lab saying otherwise, I assume this is similar to other coronaviruses which constitute and annual visitation of 15% of our colds and flus. Just because you never heard of it, doesn't mean it didn't exist. This is from Wikipedia:
The most commonly implicated virus is a rhinovirus (30–80%), a type of picornavirus with 99 known serotypes.[29][30] Other commonly implicated viruses include human coronavirus (≈ 15%),[31][32] influenza viruses (10–15%),[33] adenoviruses (5%),[33] human respiratory syncytial virus (orthopneumovirus), enteroviruses other than rhinoviruses, human parainfluenza viruses, and human metapneumovirus.[34] Frequently more than one virus is present.[35] In total over 200 viral types are associated with colds.[3]
If the same Corona-hysteria were applied to flu virus transmission, we could have saved 30,000 people in the US and 600,000 people worldwide but we have come to accept the flu and our immune systems vanquish it every year.
It's not what you don't know that get's you in trouble, they say; it's what you know for certain that is false that does. When a person looks at the heinous deaths in small outbreaks of elderly populations, they can create a high mortality rate. The final stats from a community epidemic are different as the immune competent among us resist the transmission and decrease the mortality ratio despite an exponentially-growing denominator.
I have seen no evidence that "this time it's different". The relative higher virulence among the immune-compromised elderly looks the same as other respiratory viral infections and outbreaks. What the experts don't emphasize is that the majority of people exposed do not contract the disease, the majority of those who contract the disease do not have severe symptoms, and the majority of those with severe symptoms do not die. So why do we need to put everyone in the hospital for quarantine? Because everyone believes that this time it's different?
I see a lot of posts about exponential growth and horrible deaths and would like everyone to remember that the flu also grows exponentially and causes horrible deaths. It just does so at a scale that is 1000 times that of this situation in a milieu with 1000 times less attention leading to a crisis that is 8 orders of magnitude greater than it should be.
This everyone's first rodeo and most scat-posters on Facebook are off-roading instead of staying their lanes. I get that you're scared but if you ask an expert you should ask yourself also, why would this person tell me the truth if their importance diminishes by doing so? For more on the problems with "considering the source", read this blog
and this one about the problems with a sourcing heuristic.
---
"It is worth it"
If you think about the curves, you have to see that none of them suggest that the spread doesn't eventually fall back down. If I told you that all professional sports, meetings, schools, churches, and events would need to be cancelled over a problem that were going to kill 30,000 Americans, you might say ok, let's do it. But if I told you it would be over the deaths of 40-something elderly people, you might not be so enthusiastic.  That is the current situation that the media and group think has created. We are already living in the apocalypse, my friends, and unless we exercise some courage, common sense, and accurate risk assessment, we are going to implode further.
Group think and the madness of crowds may already have planted the seeds for the deaths of many more Americans that Coronavirus by now. Countless layoffs, wholesale destruction of the travel and leisure-based economy, implosion of professional sports and conferences, and the terror engendered in everyone are already devastating. But bankruptcies of restaurant owners, layoffs, substance abuse, and suicide will undoubtedly be enhanced by this folly but we won't ever capture that properly in our data. 
The decision to shut down your own school, church, or industry for some nebulous "curve flattening" over zero documented cases (as occurred with my son attending Cornell) is tantamount to Winston Churchill's England making posters that read "We're all going to die so abandon hope and kill ourselves" instead of "keep calm and carry on."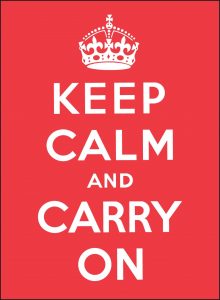 Is it really an "abundance of caution" or rather a dearth of common sense that is motivating these people? Demands for refunds, class action lawsuits, and forced resignations are not in the threat assessment calculus of administrators as they destroy their own institutions for no measurable benefit other than appearing to comply with the prevailing wisdom of fools.
Imagine you are a true believer in the Heaven's Gate cult and the Hale-Bopp comet is on its way. Everyone you know and trust believes this is the end of days. Do you put on the Nike sneakers and eat the apple sauce?  Or maybe you just go out for an errand and don't come back just in case they're all wrong.  Sadly, most people are actually incapable of refusing the apple sauce because our world has stunted intuition and degraded reasoning abilities. I close with a another quote from Mackay's book about the "madness of crowds":
"We go out of our course to make ourselves uncomfortable; the cup of life is not bitter enough to our palate, and we distill superfluous poison to put into it, or conjure up hideous things to frighten ourselves at, which would never exist if we did not make them.
---
Yes, we're all going to die and no, it's not going to be a UFO hiding behind a comet or COVID-19. Eventually, this hysteria will subside and people will emerge from their bunkers of toilet paper, ramen noodles, and hand sanitizer to find that it's time to get fooled again by the new thing we all have to fear in order to be accepted.
We are all going to die because, as this and every epidemic points out, our immune system is the only thing that protects us from as yet undefined threats including viruses and cancers. The reason the elderly succumb at higher rates to viral respiratory infections is due to a paucity of naive T-cells which are like uncut keys; if all your keys are cut then you can no longer make new ones. To read more about immune senescence, read this blog that I wrote about Pete Seeger.
What causes the immune system to degrade? It appears to be a combination of stem cell mutation, gene silencing, and depletion. Can this be mitigated by reprogramming and replenishment? Most likely. Is anyone working on this? No because the funding is in researching death and decrepitude not the search for a cure to aging.
---
In a nutshell, I promised you an explanation of immunology. Viruses are not classically alive but they are software that replicates itself using the host protein and membrane synthesizing machinery. They usually come in different flavors of RNA and after hijacking the host cells, they can, but don't always cause cell death. Some viruses can hide in your DNA but most do not. In the process of destroying infected cells, novel proteins are released into the host's blood stream and they are swallowed up by antigen-presenting cells. These T-cells "teach" the adaptive immune system to recognize the foreign protein when it is presented on the surface of an infected cell. Infected cells display the "I'm infected signal" and attract the killer T-cells. The humoral (or B-cell) system also goes to work creating gazillions of antibodies so that the current and any future infections will be destroyed by coating the viruses directly and marking them for destruction.
The reason the human race has never gone extinct is because each of our adaptive immune systems is naive, robust, and creative. Ironically, the reason the human race might go extinct is because we are naive, fear-based, and docile. It is an act of of courage to live, learn, and resist death cults, whether they be Babylonian, Mayan, or Facebook-based. Do your duty. Share the knowledge (and your toilet paper).
To learn more about colds and flus and how adaptogens might decrease their incidence and severity, watch this video podcast I created: