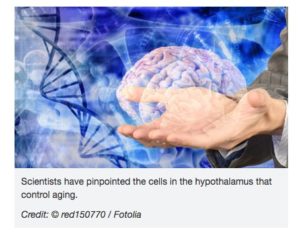 There has been increasing interest in the hypothalamus as the central time keeper of our aging. Click here for an exciting article explaining aging as a function of hypothalamic decline.
This year's Nobel Prize in Medicine and Physiology was awarded to three scientists who studied the Circadian rhythm, or the body's internal clock.
So what if the principle clock that truly matters is actually in the DNA of the cells of the hypothalamus? That is precisely what Alexey Olovnikov now believes. Ironically, he first postulated the telomere restoring enzyme of telomerase but now deprecates a primarily telomere-based theory of aging for organisms although it still pertains to cells. Here is what he wrote to me:
I must say now that although the basic predictions of this telomere theory have been confirmed, human aging can not be explained through telomere shortening. Aging, as I understand this process now, is caused by the work of a special clock of the brain, the so-called chronograph
Olovnikov believes that because the light exposure of the pineal gland and a possible gravitational lunar sensor, our hypothalamus can keep track of the months that we have lived. This is mediated by theoretical structures he calls DNA chronomeres and printomeres that are kept within the cells of the hypothalamus and keep track of the number of "moons" that we have lived. This internal clock is what accounts for the gradual decay in general function that is driven by hypothalamic dysfunction.
Read more about his chronographic theory of aging here:
Chronographic theory of development, aging, and origin of cancer: role of chronomeres and printomeres.
Of course, if Olovnikov is right about this hypothalamic clock, perhaps there is a way of resetting it? That is the goal of his Maecenas project and yes, they are looking for funding to further their research. email him at olovnikov@gmail.com
As for theories of science, I would not bet against this man's imagination. As the Tesla's, Newton's, and Galileo's have shown us, true advancement in science is often creative, inductive, and revolutionary rather than logical, deductive, and gradual.
"This vividly written book is very interesting not only by its the popular scientific consideration of how we can personally influence our health for the better, but also by its analysis of many facts concerning aging. Highly recommended reading."
-Alexey Olovnikov, PhD, Nobel Prize nominee, who predicted telomerase in 1971
To hear more from the maestro about telomeres and cell (but not organism) aging, watch this interview:

I graduated from Harvard with honors in Biological Anthropology prior to earning my Medical Degree and Masters in Public Health from Columbia University.
In 2007, I became the nineteenth patient to sign up for the use of a herbally-extracted telomerase activator.
The results were so positive that I founded Recharge Biomedical Clinic in 2008 and have since become the leading medical expert in this exciting new field of regenerative medicine treating over 1,300 patients with this exciting new telomerase activation medicine.
I won two Houston Film Festival Awards for my screenplays about Hypatia of Alexandria and Ed Brown of Kentucky.
In 2010 I wrote and self-published a Sci-Fi Graphic Novel called
MAXIMUM LIFESPAN
In 2013, I wrote and published "Telomere Timebombs; Defusing the Terror of Aging"
My websites are:
http://www.lokahi.guru
(where you can learn about my RECHARGE adaptogenic supplement)
http://www.rechargebiomedical.com
and
http://www.telomeretimebombs.com
You can sign up for my weekly blogs on this page and subscribe to my YouTube videos at
https://www.youtube.com/drpark65

Latest posts by Ed Park, MD (see all)